Tropic Thunder
es una comedia de Ben Stiller que se burla de todo el mundo de Hollywood y la fama, pero no solo de eso, también de la música, bueno concretamente de esos cantantes que se ven capacitados para actuar. La Banda Sonora está formada por una mayoría de temas electrónicos. Me gustaría destacar un par: El primero
I Love The Pussy
interpretado por el actor Brandon T. Jackson (Alpa Chino), que no tiene nada que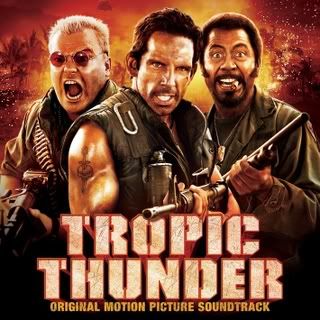 envidiar a todos esos cantantes que triunfan en el panorama actual. Y por último, dos canciones que no están en el CD de la Banda Sonora, pero aparecen:
Low
Flo Rida feat T-Pain y
Get Back
de Ludacris, "interpretadas/bailadas" por Tom Cruise. Otra cosa no pero con esta película, las risas están asegurdas.
----------------------------------------------
Tropic Thunder is a Ben Stiller comedy that laugh at Hollywood, but not only that, also of music, specifically those singers who think they are actors too. The Soundtrack is composed of a majority of electronic songs. I would like to highlight a few: First, I Love The Pussy played by the actor Brandon T. Jackson, who has nothing to envy to all those singers who succeed in the current scene. And finally, two songs that are not on the CD Soundtrack, but appear: Low - Flo Rida feat T-Pain and Get Back - Ludacris, "interpreted / dancing" with Tom Cruise. This movie, is an hilarious enterteinment.